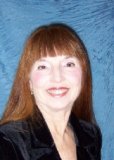 13690 Eagle Ridge Drive Fort Myers, FL 33912 SHOW MAP
Office:(239) 278-4945


Phone:(239) 936-5603
Cell Phone:(239) 560-1556


Personal Fax:(239) 278-1964


Other:239-278-4945 ext 107 Websites: www.LanaVail.com www.FtMyersVillas.com
You Deserve the Best!
"Offering the Best in Personal Real Estate Service". Whether you are buying or selling your home you will be making very personal decisions. You deserve a REALTOR who knows the market and inspires your confidence and trust. I am proud of the reputation that I have earned and I value the confidence that you express when you allow me to represent you in Real Estate. ***I look forward to becoming YOUR REALTOR! ***
My Success in Real Estate
My success is based on the relationships that I have formed. The greatest joy in my work comes from knowing that I have helped someone realize their dream. I am so fortunate to have a career that gives me such a wonderful opportunity to make a difference in the lives of others.
Areas of Expertise
Sales and listing of residential and commercial properties *** Management of income property including residential annual and seasonal homes and condos, office complexes and small apartment buildings *** Knowledge of financing options provided by a network of the best lenders in our area. ***
A Personal Note!
I have over 20 years experience in Real Estate in the Fort Myers area and have held a Florida Broker's license since 1980. When I am not working I enjoy spending time with friends and taking advantage of the many educational opportunities in our area. My life is also enriched by volunteering with organizations that support Family and the Arts. I am happy to share this beautiful community with you. !!! Welcome to Paradise !!! *****I look forward to becoming YOUR REALTOR! *****
Direct Address For This Page
http://members.FloridaRealtors.org/lanavail
Primary Specialties
Residential - investments, Residential - single family home resales
Language Spoken
English
Market Areas
Bokeelia, Bonita Springs, Cape Coral, Cape Coral South, Captiva, Estero, Fort Myers, Fort Myers Beach, Lehigh Acres, Matlacha, Matlacha Isles, Miromar Lakes, Naples, North Fort Myers, Port Charlotte, Punta Gorda, Saint James City, Sanibel, Tice