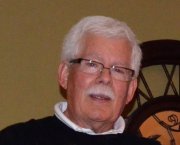 700 W Venice Ave Venice, FL 34285 SHOW MAP
Office:(941) 484-8080
Toll Free:(866) 966-0984


Phone:(941) 484-8082


Personal Fax:(941) 484-8080
Service Areas and Specialties
Serving the Venice and surrounding areas of Nokomis, Osprey, Englewood and North Port for over 30 years. My main focus is Seasonal and Annual Rentals.
Professional Experience
Working as a Property Manager for over 16 years, Licensed as a Realtor since 1998, Regional Sales and Merchandising Manager 22 years Hallmark Cards, Business Owner of 3 Different Business'
Professional Education and Designations
Kansas City Community College, University of Missouri at Kansas City, United States Marine Corps Air Wing/4yrs, Sales & Marketing Executive International Distinguished Salesman's Award 1972, Hallmark Cards
Personal / Comments
Married to wife Anne for 48 years and have 2 Children and 2 Grand Children. I enjoy Sailing, Target Shooting, Bicycling and Photography.
Direct Address For This Page
http://members.FloridaRealtors.org/1133722