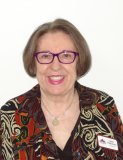 10400 Griffin Road #206 Davie, FL 33328 SHOW MAP


Phone:(954) 499-9188
Cell Phone:(954) 551-2672


Service Areas and Specialties
I service all of South Florida but mainly focus on Pembroke Pines and Hollywood, with specialties in Century Village and Aquarius Condos on the ocean.
Professional Experience
I have been a real estate agent for over 30 years in both Canada and South Florida. I am currently a sales associate for Premier Associates Realty, LLC.
Personal / Comments
I love helping my clients reach their ultimate desire of finding their dream home. I am a very compassionate agent and will go the extra mile for all of my clients.
Direct Address For This Page
http://members.FloridaRealtors.org/agneswhitehouse
Primary Specialties
Residential - investments, Residential - single family home resales
Language Spoken
English, Hungarian
Market Areas
Cooper City, Davie, Hallandale Beach, Hollywood, Miramar, Pembroke Pines, Plantation, Southwest Ranches, Sunny Isles Beach, Sunrise