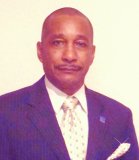 1545 S. Belcher Rd Clearwater, FL 33764 SHOW MAP
Office:(727) 538-9200
Toll Free:(866) 580-6402


Phone:(727) 793-5970
Cell Phone:(727) 793-5970


Service Areas and Specialties
I specialize in the listing and selling of Condominiums, Duplexes, Townhomes, and Luxury Homes for the Tampa Bay, Pinellas, and Pasco Areas, with special emphasis in handling special real estate needs of Seniors, Retired and the relocation of military personnel. Representing, both buyer and sellers. As an Approved, Certified, and Licensed REALTOR, I also specialize in facilitating the arrangement for obtaining your mortgage. Mi especializaci??n es en la compra y venta de hogares de todo tipo, incluyendo bienes ra??ces comerciales representando a vendedores y compradores de inmobiliarios. Adicionalmente, facilito el areglo para adquirir su hipoteca.
Professional Experience
Broker Associate McLaughlin is Approved, Licensed, and Certified in real estate for over 20 years in Massachusetts and now for Florida. My greatest satisfaction and pride comes from the equitable and fair fulfillment of the needs of both seller and buyer. With my principal brokerage company's 18 years of real estate experience, and my fiduciary representation you are, ensured a better and more professional handling of any of your real estate needs, Selling or Buying.
Professional Education and Designations
* Certified Senior Real Estate Specialist(SRES), * Licensed/Certify Mortgage Broker (MB), * Certified At Home with Diversity-One America (AHWD), Accredited Mortgage Broker (AMB), Enternet Professional (E_PRO), 1031 Tax Deferred Real Estate Certification (TDRE), Certify Signing Agent (CSA),Community Association Manager (CAM), Bachelor's Degree in Social Science - Geography. Licensed/Commissioned Justice of the Peace, Notary Public, and Certified Process Server.
Personal / Comments
In serving in the US Army for over 22 years, I fully understand military personnel and their home buying or selling needs. After graduating from the Senior Real Estate Specialist (SRES) course, I have also learned to better understand the special needs that some of the senior citizens, both buyer and seller experience during this transition. My experience with At Home with Diversity - One America Course, along with my bilingualism,(English-Spanish) have taught me to deal with the diverse population of South Florida. I continue my real estate education through my association with the National Association of Realtors, Florida Association of Realtors, Miami-Dade Realtor Association, Senior Real Estate Specialist Association, At Home with Diversity Association, American Society of Notaries, Miami-Dade Certified Process Servers. Estoy a sus ordenes en darle un servicio profesional en todo sus requisitos sobre bienes raices y hipotecas.
Direct Address For This Page
http://members.FloridaRealtors.org/mclaughlinrealty
Primary Specialties
Residential - new home sales, Residential - single family home resales
Language Spoken
English, Spanish
Market Areas
Largo, New Port Richey, Pinellas Park, Port Richey, Saint Petersburg, Tampa